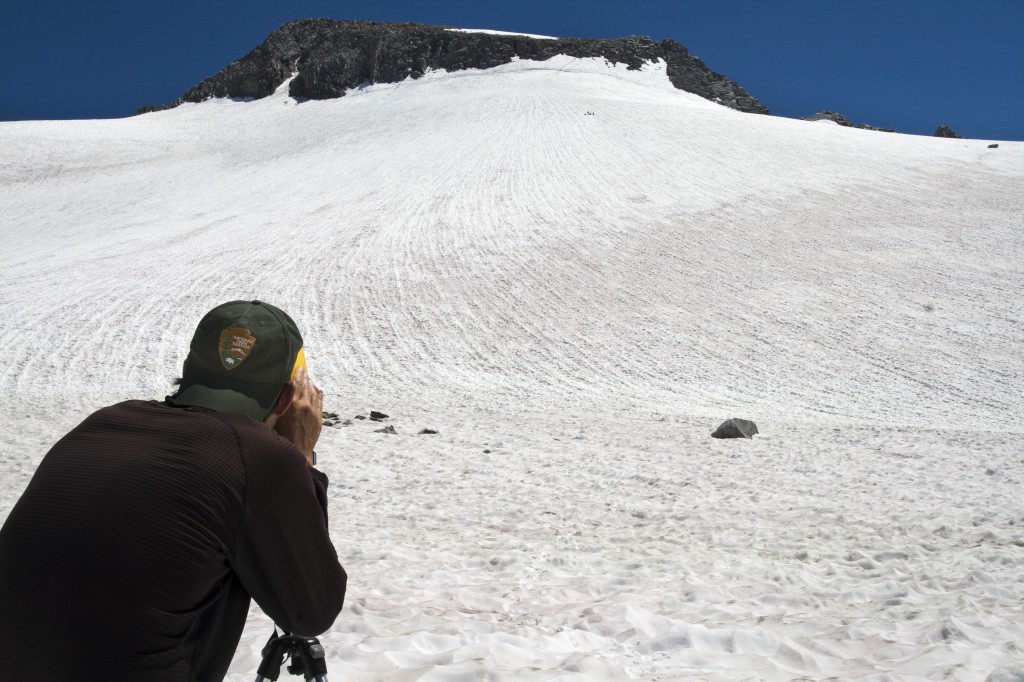 From July 9th – 12th I backpacked twenty-two-plus miles with park geologist Greg Stock to some of the highest peaks in Yosemite, Mt Lyell (13,120 ft.) and Mt. Maclure (12,880 ft.), as part of a survey to measure movement of each mountain's glacier.  This trip has been a long time coming for myself – A shoulder injury kept me from going last year.  Ever since my geology studies in college, I've wanted to take a trip to a Sierra glacier.  Not only can I say that I've completed that wish, but now I'm going back – 3 more times to be exact!
The National Park Service, along with the University of Colorado, has been conducting a three-year study on the movement of these glaciers; trying to determine if they are still moving and, if so, what their total movement is per year.  According to Stock, both glaciers – along with all the Sierra glaciers – have melted substantially, or have disappeared completely since the last Little Ice Age, which he said ended sometime around 1850.  Ultimately, the results of the study will help  determine if Yosemite's remaining two glaciers can be considered 'living' or 'dead' glaciers.  For a glacier to be called a glacier, it must have consistent, down-slope motion and enough mass to keep that movement going; thus a 'living' glacier.  If a glacier no longer has the mass to move and doesn't get enough snow to replenish the ice mass, it is considered a 'dead' glacier.  Determining if either or both glaciers are dead will be historical for Yosemite's last ice flows and could lend more mounting evidence for the existence of global climate change.
The field study, started in 2008 (delayed a year by larger than average snowfall in 2011), is completing this October, with the final report out sometime in 2013.  This study is culminating exactly 140 years after John Muir, from his own curiosity, measured the velocity of the Maclure Glacier from August to October of 1872 by inserting stakes into the glacier.  Part of the study – a piece that excites Stock – is to duplicate Muir's measurement dates in August and October.  Stock is returning to the glaciers two additional months – July and September – to add additional data to the final velocity measurements; ultimately refining Muir's methods from his 1872 study.
As a staff photographer for The Ansel Adams Gallery, my interest in this study comes, at one point, from being in the footsteps of Ansel.  From his early days working his first job as summer caretaker for The Sierra Club's LeCont Memorial; evolving to be on the board of directors from 1937 – 1971, to his large volume of writing to save wild lands, Ansel was one of the early environmentalists.  I am honored to say I work for an institution that was started by someone who loved wilderness so much!
Here I have listed the top 10 best laptop for gaming 2017 included hardcore gaming laptop from ASUS, MSI, Razer, Alienware, and Acer.Your guide to the latest and best gaming laptops of 2017. Check out our latest reviews and buying advice on the top gaming laptops for this Laptop.
Like Ansel, I fell in love with the Sierra at a young age.  Like Ansel, I want to capture magical Yosemite and Sierra moments with my camera.  I also feel compelled to understand our increasingly changing planet through the lens of my camera.  Monumental shifts in Glacial ice in Greenland; The Northwest Passage opening up more and more each summer; The American Heartland's historic crop losses; Ever more intense storms and heat waves – All lend a heavy hand of evidence toward what scientists have predicted for decades – a warming planet.  Volunteering with the park geologist fills that part of me interested in knowing the truth of things.  And I want to know the fate of the glaciers in my back yard.  I feel I'm getting a sense of it now, but will wait for the data to be collected, the numbers to be crunched, and the last word of the report to be written before any definitive answer can be told.
Back to my camera comment above.  I have the pleasure of being the only photographer for these trips.  Not only am I documenting the glacier study process, but I get to photograph the beauty of the Lyell and Maclure area.  This first glacier trip has been truly inspirational for me and I look forward to taking part in the remaining glacier trips.  A big 'Shout Out' to Yosemite Park geologist Greg Stock for allowing me to be a part of this historic study and letting me literally dig the holes for the stakes and help with recording the data.  Stay tuned for pictures from the August trip!
Thousands of Android games for free! Download top apk games for Android phones and tablets without any payments. Daily updates of the best Android games. Download Android Apk Download with APKPure APK downloader. NoAds, Faster apk downloads and apk file update speed. Best of all, it's free.